Last week, the Royal Commission into Aged Care released a statement on COVID-19. Part of this release talked about the measures put in place by the Government to protect the elderly and vulnerable. The challenges these measures bring about had the Commission stress the need to employ technology to deliver creative ways of providing care in line with reduced personal human contact.
This week, the Government's rapid changes enabling telehealth for all Australians was another signpost of the increasing role digital solutions will play in how we care for the elderly in their own home.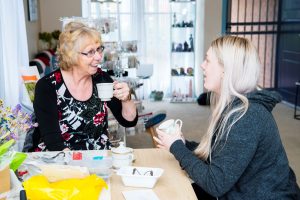 Lighting the Spark
In response to Covid-19, Agnes is partnering with Lively and Umps Health on Lighting the Spark. Launched just last week, with philanthropic support from 5point Foundation, Lighting the Spark aims to optimise the health, safety and connection for older Australians through COVID-19. It will also provide employment opportunities for younger members of the community – many of whom have faced sudden unemployment.
Through Lighting the Spark, up to 200 older Australians will receive access to a free and flexible support package. By leveraging technology, we'll be looking to keep older people safe, healthy and connected through prolonged periods of isolation in their own homes.
The Lighting the Spark Support Package:
Installation of Umps smart home monitoring technology to detect and respond to illness or incidents in the home
Telehealth access to GPs for remote medical diagnosis and treatment; minimising the need for presentation at a medical centre
Help getting set up online to connect and communicate with others from home
Social calls and virtual activities to relieve loneliness and isolation
Help collecting groceries, medication and other daily essentials
Other tailored support as requested by Lighting the Spark
Of particular interest is supporting those who do not currently receive Government funding for home care support.
Week 1 Key Learnings
We are curious to learn about the changing needs of care recipients, as well as the new models of care emerging. What have we learnt in our first week?
Family members are keen to minimise health risks to their elderly parents by reducing visits to their home. At the same time, they want to remain connected with their parents; reducing their anxieties and isolation as much as possible. A combination of tailored visits, technology and phone calls are all being used to meet this challenge.
I will continue to update you on our Lighting the Spark learnings across the Covid-19 period.
For now, stay well!